Having previously completed the restoration of a stone floor for this client in the village of West Wickham near Cambridge I was asked to return to look at the Multi-Coloured Slate tiles in the Kitchen of a rental property. The Slate floor had been laid throughout the Kitchen/Diner through to the Hallway and Utility room.
Over the years the sealer had worn down and dirt had become engrained in the pores of the Slate and had discoloured the grout. They were now in need of a deep clean and the tenant was pleased to be having the work done. It is always a delight to have an existing client have you back as there is no better testament of how happy they have been your work.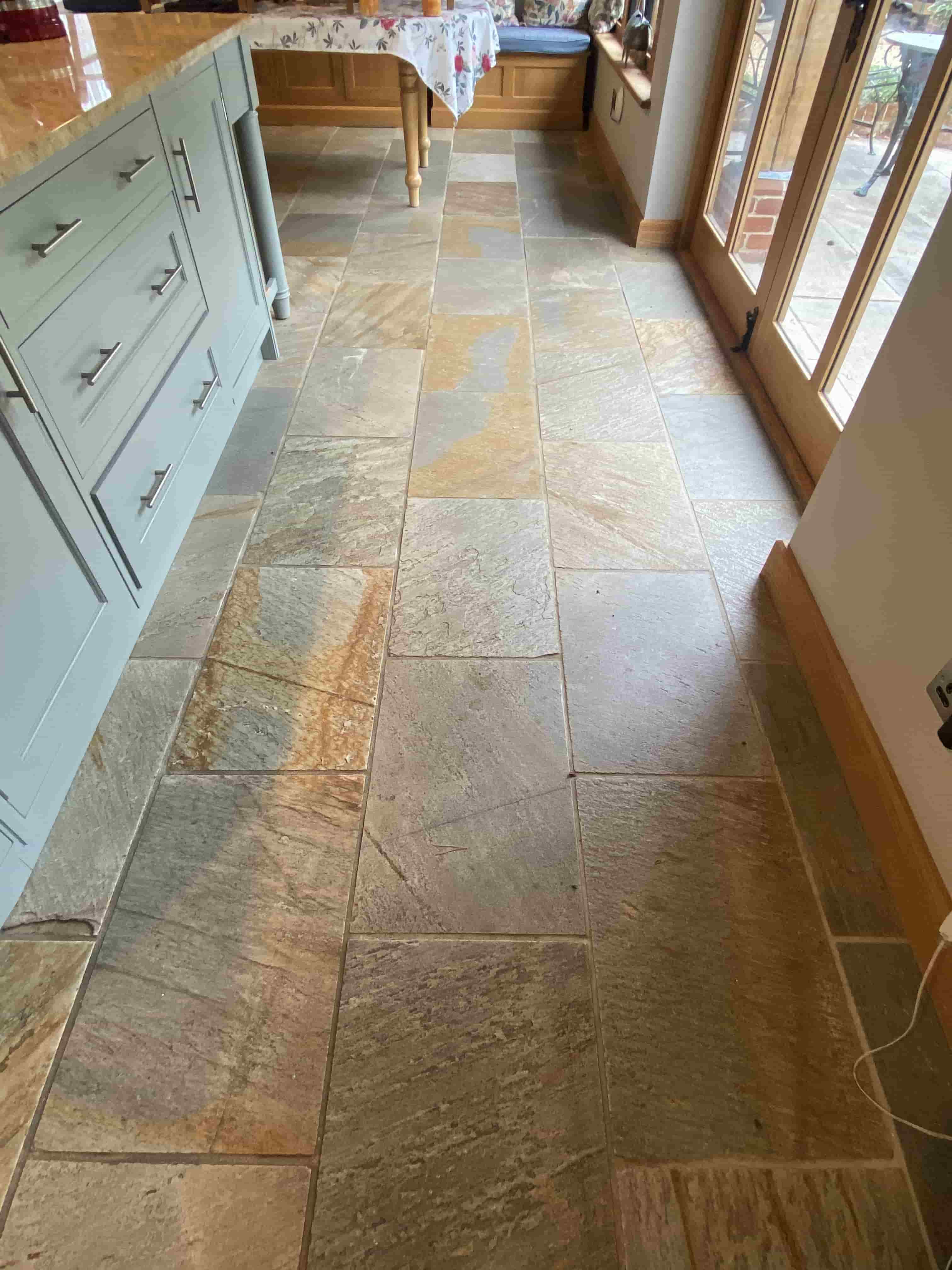 I visited the property to measure the area and carried out a few patch tests to check the best process and from that I was able to provide an accurate quote for the work. Happy with the quote I got the go ahead and a mutually convenient time to do the work was agreed with the tenant. It was a large area so the work would be a little disruptive.
Deep Cleaning a Multi Coloured Slate Tiled Floor
To start I applied a strong dilution of Tile Doctor Remove and Go, left it to soak in for ten minutes and then scrubbed the floor with a black scrubbing pad fitted to rotary machine. This action brought a lot of the ingrained dirt to the surface where I was able to remove it using our van mounted cleaning system that applies pressurised water to the floor whilst simultaneously extracting the soiled water to a tank in the van via a vacuum. This keeps the mess to a real minimum and improves drying times.
The tiles and especially the grout was very dirty and it was necessary to repeat this process a few times, hand scrubbing where necessary until I was satisfied the Slate and Grout was as clean as possible. It was a large area so I had to work in sections until all the floors were complete and once done it was left to dry off overnight.
Sealing a Multi Coloured Slate Tiled Floor
Returning the following morning work started by taking several moisture readings from each area with a damp meter to ensure the tiles were dry and ready for sealing. The readings were fine so the first of several coats of Tile Doctor Ultra Seal was applied. This sealer is almost invisible and so doesn't affect the look of the stone leaving it with a completely natural finish.
The client and tenant were very happy with the end result and have ordered some Tile Doctor Neutral Cleaner for the regular cleaning of the stone. Using our cleaner which is pH neutral will ensure the newly applied sealer is not compromised and will keep the floor in tip top condition particularly in the heavy traffic areas.
Professional Clean and Seal of a Multi-Coloured Slate Floor in Cambridgeshire
Multi Coloured Slate floor in desperate need of a deep clean West Wickham